Series PAT
Category: Terminal blocks for perforation of insulating materials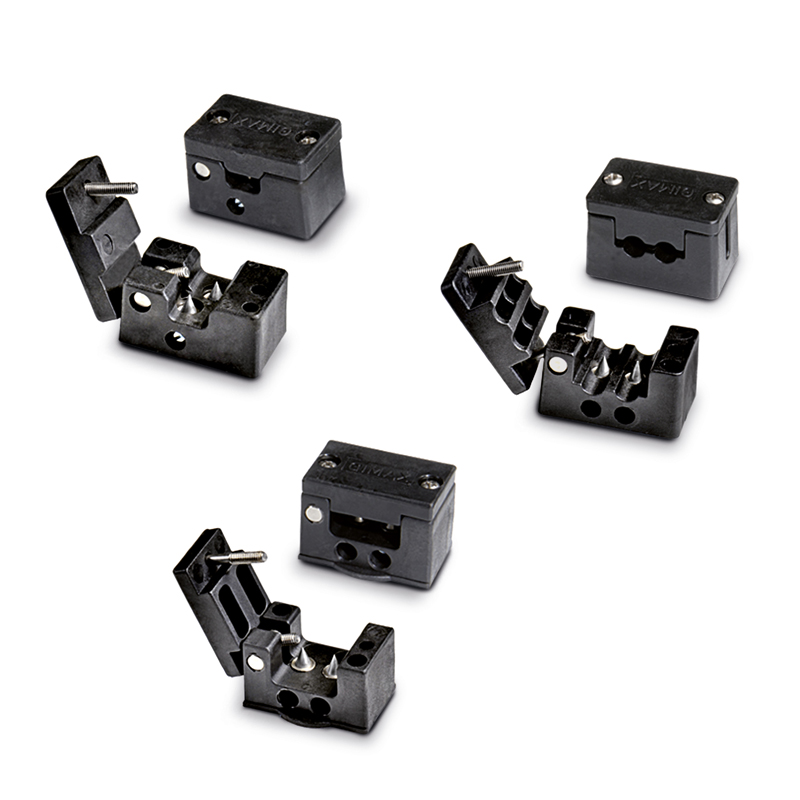 Features
Terminal with perforation of insulating material with reclining base and cover, hinged on one side, in fiberglass, shock-resistant, oil-resistant, acid-resistant and age-resistant, color BLACK.
Material V0 non propagating the flame.
Nr.2 contactpoints in stainless steel, fixing screws in stainless steel with bolt in brass that can not be lost.
The "PHILOSOPHY OF THE CABLE CLAMP" starts with the knowledge of the importance of safety in electrical systems. The company GIMAX S.r.l. has always operated with this cornerstone in mind, projecting and developing products that could guarantee the maximum safety in any type of work. A system has been successfully developed that together with safety includes the simplicity of handling and the rapidity of the assembly. On this note, some years ago, a "terminal with perforation of insulating material" was developed and produced, immediately nicknamed CABLE CLAMP that combines to the safety in working with low voltages at 24V and 48V, the possibility to lower considerably the installation time, with the simplicity of the assembly, for which the only tool necessary is a screwdriver. For the use it is sufficient to have an appropriate flat cable, that is properly sectioned, to place "the cable clamp" on. With the help of a screwdriver, the cover is put on with two screws, that with the tightening, determinate the penetration of the two points in the "cable clamp" on the cable, making in this way the connection. When the contactpoint has to be changed, it is sufficient to unscrew the two screws and place the "cable clamp" on the new desired point; the cut left by the two points does not compromise the cable, because it is made of a special sheath that does not allow the leaking from capillaries, (specifics of the cable at page 67). The correct use of the "cable clamp" does not foresee any particular instructions seeing that the device is so simple. Once it is placed on the cable, it is sufficient to tighten the two lateral screws in order to obtain the entry of the two points made of naval steel (INOX Aisi 316) in the cable until the contact is made. The two parts of the "cable clamp" close on to the cable, once it is tightened upto the maximum, in order to obtain the protection of the contacts.
| | |
| --- | --- |
| series PAT | Description |
| PAT135 | Terminal with perforation of insulating material suitable for nr.2 unipolar wires 1x35mm2 |
| PAT129 | Terminal with perforation of insulating material suitable for flat wire 2x25mm2 |
| PAT121/6 | Terminal with perforation of insulating material suitable for flat wire 2x6mm2 |